History of Grove Park – South Orange, NJ
Grove Park was not established until 1908. The land now covered by Grove Park had been platted into 43 narrow residential lots but remained undeveloped at the turn of the 20th century. Rumors of an impending sale spurred local citizens to raise $8,000 to purchase the tract for a park. They donated the land to the Village Trustees, and then the citizens raised an additional $2,000 to landscape the park. The following image shows the landscape architecture plan by the firm of Brinley and Holbrook.
John Brinley and John Holbrook began a partnership in 1901 and founded their firm, Brinley & Holbrook landscape engineers and architects, with offices in Morristown and New York City. Five years later (1906), Holbrook left the firm to work for his father as the Vice President of Gorham Manufacturing Company but Brinley continued his career as "Brinley & Holbrook." The firm's work stretched across Connecticut, Delaware, Maryland, Massachusetts, New Jersey, New York, North Carolina, Pennsylvania, Rhode Island, Vermont, Virginia, and Wisconsin, with the majority of commissions in New Jersey and New York. Some of Brinley's most famous projects include the New York Botanical Garden (NY), Morristown Green (NJ), Blythewood in Bernardsville (NJ), Cedar Court in Morris Township (NJ), and the Hamilton and Florence Vanderbilt Twombly country estate, now Fairleigh Dickinson University.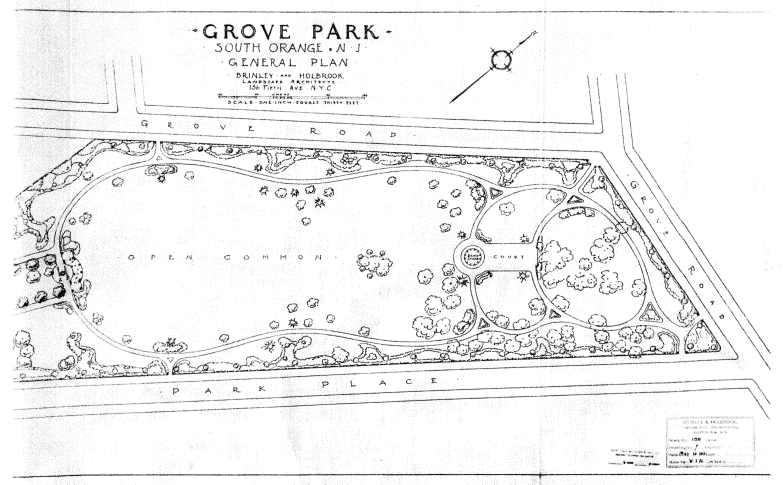 Map Reference: 'Grove Park' South Orange ●  NJ General Plan Brinley and Holbrook.
SIGN UP FOR MONTROSE NEWS
Stay informed about MPHDA news and events.